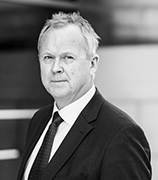 Contact details
Mob: +47 9926 3476
Telephone Direct:
e-mail: aho@petrolex.no
Main Fields
All aspect of oilfield service contractors operating in multi jurisdictions world-wide, maritime law, corporate law, securities trade laws, contracts, M & A including debt restructuring and reorganizations.
Education
Candidate of Jurisprudence, University of Oslo, Norway 1989
Professional experience
SeaBird Exploration Group of Companies, General Counsel 2006-2016,
Petroleum Geo-Services (PGS), Senior Group Legal Counsel, 1995-2006
Schlumberger Geco-Prakla Asia Pacific, Legal Counsel 1992-1994
Schlumberger Geco-Prakla Europe and Africa, Legal Counsel 1990-1992
Others
Extensive experience operating as legal and commercial advisor in-house oilfield service companies primarily seismic but including various E&P service providers and smaller size oil companies. Negotiations, including team lead and partner in commercial discussions. Experienced from advising on strategy and managing disputes and trials worldwide. Various appointments as Director of companies in Norway and overseas, as well as Secretary to the Board in publicly listed companies.